So, it's been an age since I updated this blog about Kickstarter projects. The last time I posted in this category I had just backed The Dash. Since then I've backed another 13 projects… too many to go posting about now, so here's some quick summaries of what I've been backing!
RMDLO
This is a funky new colander which folds down to a single strip… and it looks kinda like an armadillo! It was originally intended as a Christmas present, but as with most Kickstarter projects it delivered late… well, it still hasn't delivered. However, it looks cool and the updates are decent. It should deliver in the next three months or so, with any luck.
Luchador! Mexican Wrestling Dice
One of the many, many Kickstarter games on my roster… this pledge was meant to be an upgrade to my original Luchador I picked up at the UK Games Expo in 2014. However, either by mistake or design the Backspindle guys sent me the full game! Huzzah!
Asking For Trobils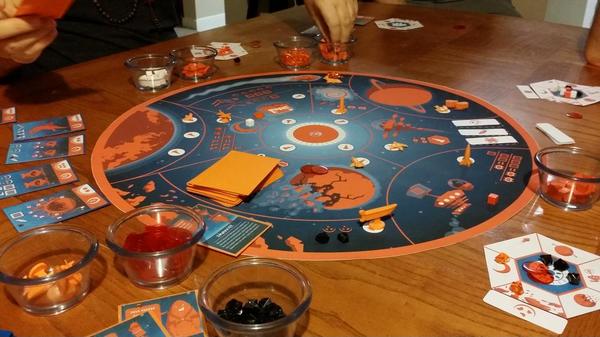 Another game… this one is yet to arrive, but is imminent! It's also one of the games I am most looking forward to. It should play a bit like a space themed version of Lords of Waterdeep, but with a circular board and funky alien cartoon types. Should be ace!
Arist
This is one of the big ones… a treat for the office. A coffee machine which is controllable by mobile or NFC, is fully bean to cup, has a chilled milk compartment for proper steaming and frothing, flavour shot compartments and more! Assuming it's not a con and I've lost my money, this one is eagerly awaited!
Ember & Earth
A bit odd for me, this one, but again it was meant as a Christmas present. This time I knew it wouldn't deliver in time, but that was fine! It's a redesigned fisherman's raincoat. Modernised and made to look more desirable, but with the waterproofing you'd expect. A his and hers set for me and the wife!
Exploding Kittens
One thing I just can't resist is a good looking game on Kickstarter. Another thing I can't resist is The Oatmeal (probably the best web comic ever). Combine the two and INSTABACK! This one went crazy, it basically broke the internet… and broke every Kickstarter record out there!
The Quest for the World's Best Teas – Face to Farmer
This was a bit of a knee-jerk backing as it was coming to an end within hours when I was sent the link. It's basically a heap of tea from single garden sustainable and ethical tea plantations from places like Vietnam and Thailand. Should be good!
And finally… Pebble Time!
I can't resist this one… I missed out on Pebble Watch the first time round. I mistakenly thought my wife might back it for me for my birthday. Unfortunately, she preferred the thought of actually giving me something more tangible than a promise of something in the future. I then decided not to bother picking one up at all as the hype died down.
Now though, Pebble Time has been announced and launched on Kickstarter. It's a colour e-ink smart watch, all the good stuff from Pebble with added colour. I've gone for the steel version, it'll also have smart straps in the near future and has a 10 day battery. It'll do all I want until Apple Watch version 3, when bugs have been ironed out and battery life improved (hopefully).